Continued…..
I hiked 12 miles today on the canyon floor and up to the rock formation that is the landmark of Palo Duro Canyon and Park: the Lighthouse. Although to me it resembles a needle with a blunt end. Or a leg with a tumor. I'm really tired and need a shower which will have to wait until tomorrow.
I decided to stay in the park here another day. I haven't even made it up to the rim yet; Caprock will have to wait for another adventure journey.
I ate sweet and sour chicken with beef jerky for dinner. Jerky is my favorite camp and trip food. Not too bad with ice cream, either, when it served as a substitute spoon. I had instant oatmeal for desert and I'm gnawing on freeze-dried ice cream. Which seems totally wrong. And it is.
My favorite travel coffee mug, disguised as a French press, is full of hot cocoa and I'm writing by light from the candle lantern and the headlight on my forehead. A moth sits in my lap as if he's found a warm comfy friend. The darkness imparts a feeling of late night, but is only early evening. I want my sun back.
After breakfast and coffee this morning, donning all layers, I picked up a trail behind my camp site. The cold prompted me to wear my glove liners and fleece neck warmer; the sun had barely crested the ridge to the east and would not warm the canyon floor for several hours. Fortress Cliff, which towered over the campground, was bathed in sunlight and its colored stripes in all their glory.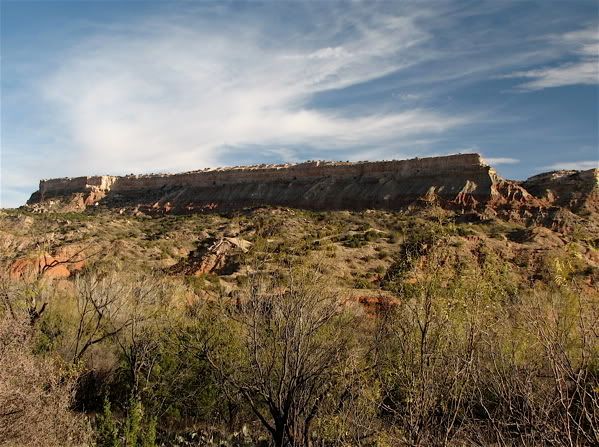 I soon discovered the canyon floor is a feast of colors, textures, shadows and shapes. Nearly every few foot-falls revealed something new and fantastic. Exclamations of "Awesome!" and "Wow!" escaped me many times. The 1GB memory card in my Canon was filling fast; there were too many images I wanted to capture. I added another and larger memory card to my
Wish List
, and to my
In My Dreams List
, a portable media storage device with a LCD viewer to download images while on the road.
I explored washes, dry stream beds, caves, gullies, peaks, everywhere I could fit my feet. I followed my eyes; they were the leaders and my feet were helpless slaves to them. The rising sun lit the yellow and twirling cottonwood leaves which almost glittered against the stark blue cloudless sky. Shadows from trees and cliffs sharply contrasted with the sunlit ground and vegetation. I constantly moved between brick-red cliff shadows to sunlit red clay pathways.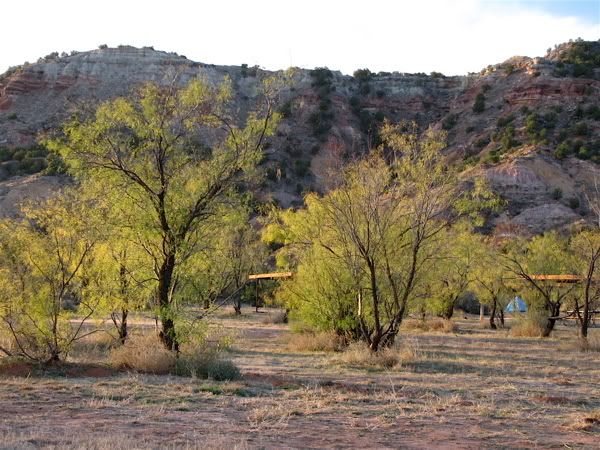 I found a hole in the side of a cliff that I'm sure served as an animal den, probably coyotes. There was coyote scat everywhere, covered with fuzzy grey fur and most common in the pathways. I wondered if the coyotes deposited it in the middle of the paths on purpose as if it were some devious prank for us humans that walked the paths. The wiley canines probably used the paths as well to avoid the carpet of prickly pear that covered much of the canyon floor, especially in the drier and higher elevations.
As the sun rose and air warmed, I shed pieces of layers one at a time. The camera bag on my belt was stuffed with gloves, neck warmer and ultimately long-sleeved T-shirt, while I retained wearing a red sweatshirt. Ultimately, the most useful layer was the full Camelbac. But it would empty sooner than I predicted.
I hiked narrow paths meandering a forested area of the canyon floor fed by running streams and later encountered another trail, this one climbing elevation and meandering around the bottom of the tall cliffs and peaks. The trail led to the infamous 'Lighthouse' and a small area referred to as "Little Moab".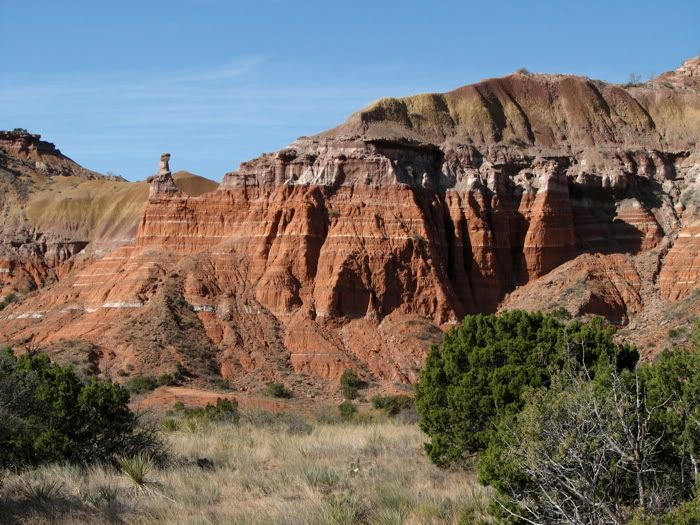 "Lighthouse and Little Moab" continued......