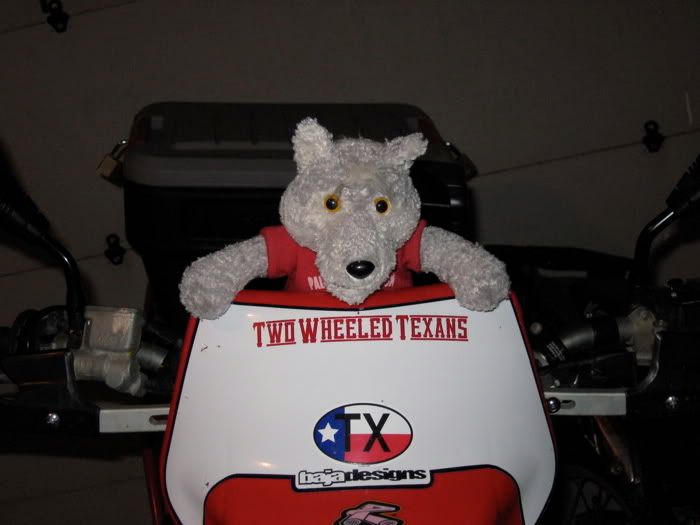 I missed it last year, and regretted that I did (for various reasons). I planned to ride in it this year, but can't with a broken ankle. Nevertheless, I'm still going. I promised I would chronicle the event with a write-up and put together a video of photos and vid clips. I keep my promises.
I will be camping with friends near town on the Llano River and collecting photos and video clips from the various of 200+ riders. My helmet cam is delegated out to one rider and I'll be taking photos of riders in town at the gatherings. My Mac and a stack of DVDs will serve as the archive depot.
I also plan a jaunt on my own via the truck (using left foot to drive) to Fort McKavett to add to my fort trips (see 'Forts' on this site). Mr. Buck, Ed's dog, will keep me company at camp. I look forward to some 'alone on the river' time. I might even be motivated to write.
Friday night the Dutch oven will again make an appearance: Black Forest Cobbler. It was a big hit amongst the Desert Rats over the holidays in Big Bend. I suspect it will be again. Especially topped with vanilla ice cream.
Knobbies are on the crutches and Wiley is ready to go, too. This will also serve as a test to see how well I can maneuver around on my own.
Meanwhile, north Texas is being clobbered with another round of severe thunderstorms and tornadoes. Ed and I were out in the storm last week looking at a KLR for sale. When we left Arlington the sky was blue with some patchy clouds. A little over an hour later we thought we were going to have to find shelter in the home of the family we were visiting. The hail was as big as tennis balls and deafening. It lasted longer than I've ever seen it here, piling up on the street, sidewalks and grass, covering them like a carpet of snow. Shortly after it stopped we could hear the wind up above us in the gray-green-black sky like a perpetual distant thunder. It was calm where we stood.
We learned later that a tornado had passed barely a mile away from us, and only two miles from my house. We drove out to check my house the next day because I had nightmares that the roof was ripped off by the wind (which has happened). When we turned on my road, we stared at the scene before us: all the trees were bare, no leaves remained on any trees or shrubs. Debris still covered sections of the road and the sides were littered with leaves, several inches deep. It was eerie.
With my throat tight, we turned the corner and I sighed a huge audible relief; my house still stood, roof intact. There was some small damage but nothing major. Water removed quite a bit of gravel from my private road and made potmarks in my driveway. I'll have to bring a truckload of gravel home soon to fill those in. The pond is full and a few trees were down in it. I have some cleaning up to do, but the house is sound.
Ed rode the Whee back to his house for safe keeping; it was covered with debris from being stored in the shed. Now that he added the K LR to his stable, and my Whee, eight bikes now reside in his garage.
Below is a photo of a dent on Ed's truck hood from the hail that night. His truck is plastered with these. I liked the photograph; it looks like reflected trees and circular ripples of water.
Spring has sprung!
Photos courtesy of Ed Hegarty.
Labels: Adventures, Texas