(

Note: the Black Gap post has been postponed; it resides on my desktop at work where I composed it at 1:30 am and forgot to email it home. The brain at wee hours of the morning doesn't function too well. So I am skipping ahead one day.)
Part One: "Oops, I'm really sorry about that."
Welcome to Rode Report Two: the famous scenic river road that runs from Study Butte west to, well, points west of Study Butte. For sixty miles, it is the only paved road that transects Big Bend State Park. I was forewarned that it is affords incredible views of the canyons and the river and a favorite of motorcyclists. They were right.
It was a clear blue day; a fantastic day for a ride. And I was ready to ride! Gathering up bike gear again, we drove to Brent's to pick up the bikes again. And off we went down miles of dirt road.
Standing on the pegs and peering over the dust trail Randy left behind, I was enjoying the scenery and just cruising along when suddenly a deer leaped out in front of me from my right. There's that millisecond when adrenaline surges into your veins and spreads out along your chest, neck and arms; your eyes get big, heart flutters and the lizard brain in your head vacillates between freezing still or running like hell.
And then the rest of your brain kicks in and there's an instantaneous internal dialogue:
'Whaoh there! Don't panic…'
'If we collide while I'm standing on these pegs, I'll go flying over the windshield and land on the dirt rocks or in the cactus full of thorns!'
'Then gently roll off the throttle, don't brake hard and for Pete's Sake, use your rear brake!'
'Okay, but I'm gonna sit down now.'
Deer glanced at me and leaped to the other side of the road.
'Whew; that was a close call…..
Okay, time for Cyborg mode; slow down and scan both sides of the road instead of lallygagging at the magnificent and peaceful views.'
Randy was far ahead of me by that time. Eventually we rolled into a gas station in Study Butte to top off the tanks and headed west on Hwy 170.
After stopping again at Kathy's Kosmic Kafe to say a "Hello", and eat a grilled cheese sandwich, we proceeded west on our V-stroms.
Our first stop was the Barton Warnock Environmental Center, a few miles east of Lajitas. The building is typical Spanish architecture, which I have a fondness for: wide overhanging and tiled roof, large wooden posts, double vertical wooden panel doors with cast iron fixtures, wooden shutters covering the windows, flagstone and tiled floors inside and out.
The design included another traditional element: a courtyard. This one was planted with cacti and other plants found in the Chihuahuan desert. The colors splayed out before me in the sun were candy to my eyes. And contrasted with the darkness and cool of the shadows from the overhangs.
Inside was a book and gift shop, an excellent selection of books covering everything from the history and geology of the desert and the Trans-Pecos region of New Mexico and Texas to plant, bird and animal guide books, maps and.......... Being a book-aholic, I could have walked out of there with an armload.
While standing at the counter and chatting with the knowledgeable clerk about the geology of the immediate area, another visitor tapped me on the shoulder and said,
"Um, sorry to interrupt, but I think you sprung a leak."
Not understanding at all what he was referring to, I looked at him quizzically and he pointed at the floor. At my feet was a huge puddle of water running along the bottom edge of the counter and floor. Apparently while I was leaning up against the counter and immersed in discussion about how volcanoes implode before they explode and calderas, the nozzle on the hose of my CamelBac was pinched open between my ribs and the counter. And prolifically leaked all over the floor.
Rarely am I embarrassed, but this time I was. I felt like a happy frolicking puppy caught inadvertently piddling on the floor. And it certainly looked exactly like that. Randy vocalized the same association while I apologized over and over and asked for something to soak up the water. The clerk tried to shrug it off but I insisted on wiping up my puddle. I commented I always clean up my own messes.
Then I tried to excuse myself from the building as soon as I could.
Meanwhile, Randy endowed Wiley with a traveling companion: a multi-colored kokopelli. He rode on the back of Randy's bike next to Wiley and they became good riding buddies. Although at first Wiley was a bit unsure of his new traveling companion. They seemed to do just fine behind Randy the entire way.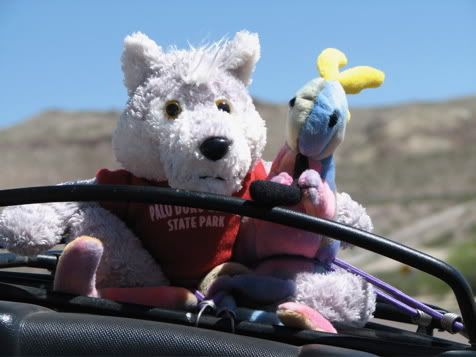 After Lajitas the road paralleled the Rio Grande and we were afforded glimpses of the river from the road. I struggled to keep my eyes on the road with all of the fantastic scenes of multi-colored canyons and the meandering arroyos tempting me astray.
As the road rolled like a roller coaster and the bends became tighter, I settled into riding mode: dipping, leaning, shifting and wondering what lay beyond the crests of the hills as the bike and I pranced up them like a fleeing antelope. Not knowing the road at all and what to expect, I exercised caution approaching the crests of the hills, not certain of what the road was like on the other side.
But that thrill kept me wanting more.
And more than anywhere else, Whee and I were flying in a blue dream!
Several miles west, riding into a canyon pass along the river, I spied the infamous tepees. Of course we had to stop! I needed to catch my breath anyway.
Shedding the jacket, sipping from the CamelBac and camera in hand, I found a rock ledge jutting out for a nice relaxing rest and a river view.
If you look closely, you can catch a glimpse of the road climbing up the pass: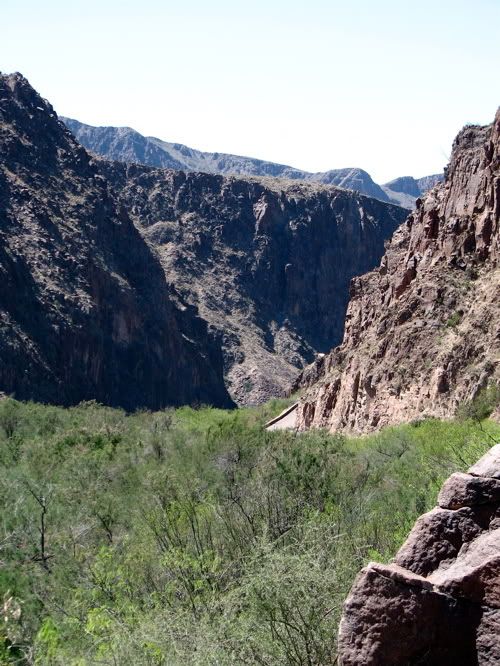 Next
: Part Two. Back to Someone's Future
Labels: Adventures, Big Bend