Yea, we're going for a ride!!!!
Hi! I'm Wiley, the coyote from Palo Duro canyon, and on an adventure with my human friend, Shadow.
I had slept for two whole days! There was an itching growing in my paws and I noticed my human companion was itchy, too. That restlessness shows when she bounces her legs and can't sit still. My leg bounces only when someone scratches my back (was something scratching her back?). But I knew we both wanted a ride. I didn't care where we went; this was all new territory for me. My home back in Palo Duro canyon is not like this at all!!!
'Can we go for a ride NOW? Please? Huh, huh?'
"Let's ride"
'Woohooo!!!!!!'
The two humans gathered their riding gear together and threw it into the back of the 4-wheeled box (in which I rode on the dash! Great views!). I saw that the really really big canine cousin was locked in the fenced area out in front; I was hoping they wouldn't forget me! Besides, that big canine named Zeke wanted to eat me.
Back on the dash and I got to see a long distance of up and down rocky roads! We found an abandoned building with dead bikes in front.
Shadow had to recycle her pot of coffee so we stopped at a church on the dirt road and I visited with the little guy and his birdies.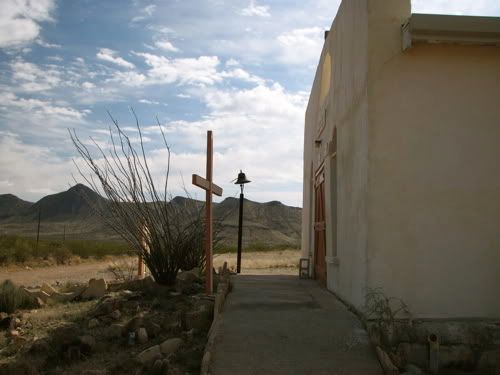 We pulled into a very cool place on a rise that had a fantastic view of the mountains. I had to swallow a lot to keep my howls inside and quiet. The urge was almost irresistible. I wanted to run, too, but there are a lot of thorny sharp things out there!
When they were all ready to go, Shadow (my human; she likes shadows) was trying to figure out where I would ride. I'm too big for the front windshield of her bike but no bags on the rear of her bike for me to ride like I normally do. So her friend, Coyote Master, (she called him 'Randy') strapped me onto the top of a big black box on the rear of his bike. (I liked him; he was like a fellow coyote, but I was jealous of the big Zeke monster. He liked my Shadow too much and romped around with her more than I did.)
Coyote Master and I rode in front and I got to see Shadow on her bike. I noticed her standing up on her bike a lot! How did she do that? Then I noticed all the dust and how rough it was riding on these dirt and rocky roads. I bounced around but I never fell off the box. My tail just wagged a lot. I wonder if she bounced around when she sat on her bike seat. Maybe that's why she stood up on her bike pegs.
Those dirt roads seemed to go on forever but we finally reached the hard black stuff and then went faster, faster, faster!!! We turned onto a highway and rode up and down on a black ribbon of hard stuff with bends and turns and ups and down and really cool sights of mountains and hills and......
Then we had to feed the bikes. I don't know what they feed those things with but they come out of snakes attached to tall blocks of metal and, man, does it stink! Whew! I saw all kinds of four and two-wheeled moving things, some giant boxes on wheels and some little things that look hot inside. And too many of them!
After they fed the bikes (do they burp? I do!), they turned down a road that was like any typical road going through the desert. We didn't ride long before we pulled in front of two GIANT boxes that were painted pink! And pink? Oh man, they were bright! I had to squint my eyes (I should ask my human for a pair of sun goggles for riding).
They called that place the "Kosmic Kafe" and we met a really nice lady named Kathy. I liked her; she wore one of those odd hats that humans wear in this area. I think it's called a 'cowboy' hat. Although I wonder if boys are cows? Or are some cows, boys? Hmm...... I'll have to think about that one.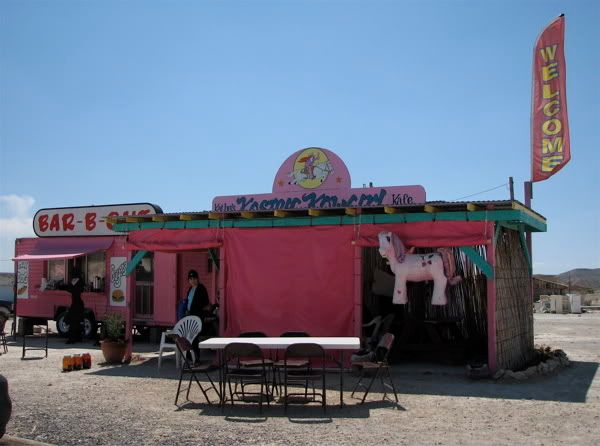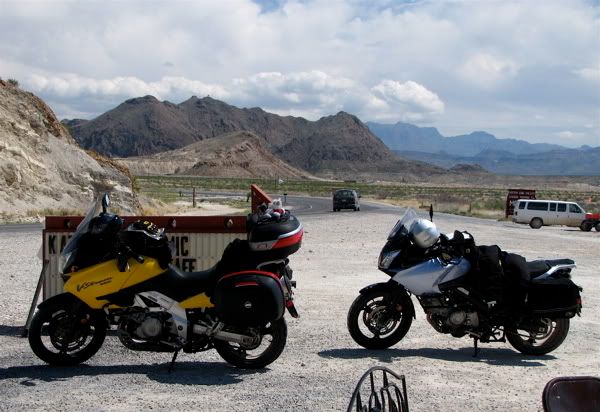 We saw lots of bike ride by, including another Wee-strom!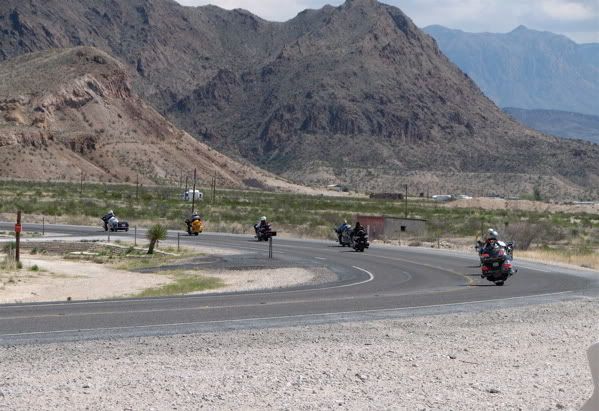 Meanwhile, Coyote Master and Shadow ate some human food (I'd rather eat the cow, myself) and talked to a man with a smaller hat named 'Uncle Roger'. Shadow got all excited talking about another bike called a 'Super Sherpa', which Uncle Roger rides. I know she wants one of those, but Whee might get jealous!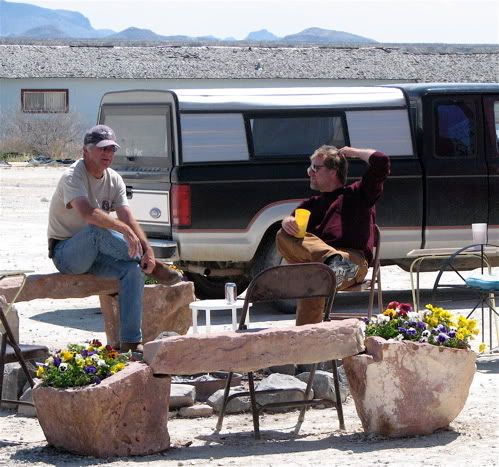 Kathy said to say "Hi!" to Ara!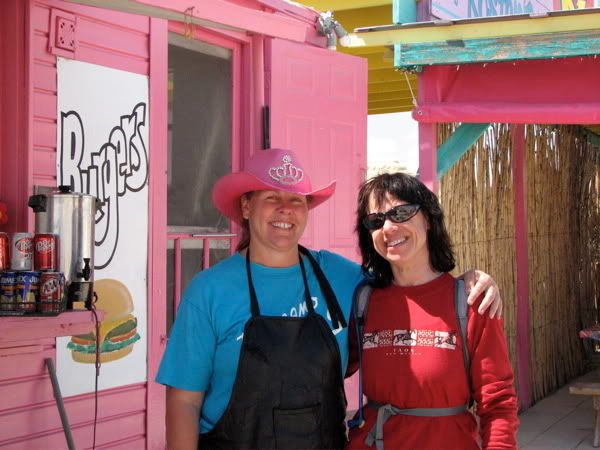 We stopped for a spell at the Terligua store and saw more bikes next door at the Starlight Theater.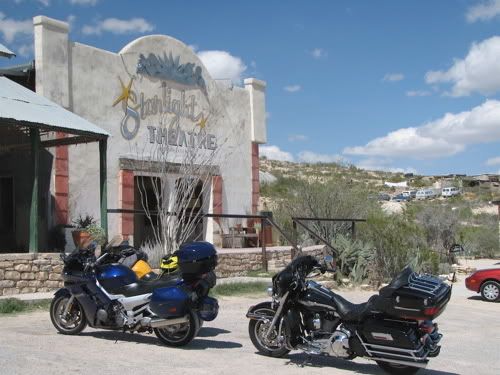 Back on the road, Coyote Master led the ride so I got to watch Shadow ride again from my back view. And I got to see all the really neat mountains and stuff as we went by! I think we were heading for a place called "Big Bend Park". Hmm....... so how does one bend a park? Or do you park a bend?...........
I know Shadow was having a good ride 'cause I caught her grinning in her helmet a lot.
We stopped at a cubicle with another human inside (why do they always have to be in boxes?) and then Coyote Master and Shadow switched places. She led and we rode on some really neat black ribbon again that meandered over the desert and, whoah! The mountains and canyons were awesome!!!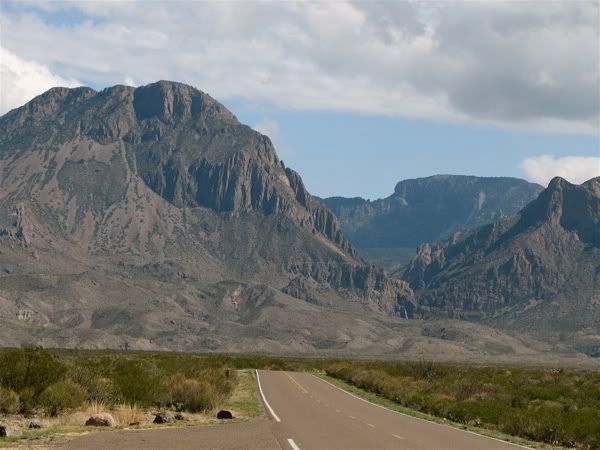 I was having a grand time!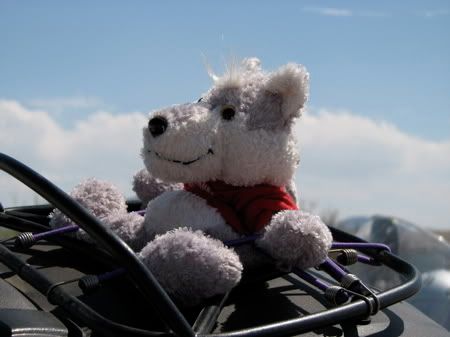 We stopped a few times when Shadow pulled over. She always has this metal thing in her hand that has a nose with glass that captures images in boxes. It must be magic! And it makes funny little 'Beep, beep" noises. She pointed it at a lot of places and things on that ride!
One place we stopped overlooked a canyon and we got off for a walk. Coyote Master took me with him and showed me the canyon in a very bad way! He held me by my tail and dangled me over the edge! AWWWWW!!!!! At first I was scared but then I liked it (hehehheh). I thought maybe I can fly, but I'd better not try it. It was very cool down there and I even saw some water (which made me thirsty).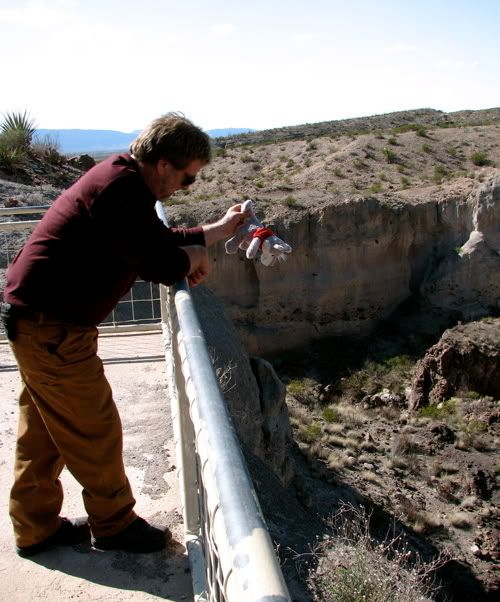 Shadow took some pictures all over the place; she saw a few flowering cacti and went nuts. The views of the mountain ridges were awesome, too! But there were too many people around and I growled at some (deep inside, no one heard me).
Shadow put me in a yucca to use both hands to take pictures. But the edges of those leaves are sharp! Owwwwwwww…….!!!!!!!
[grrrr……]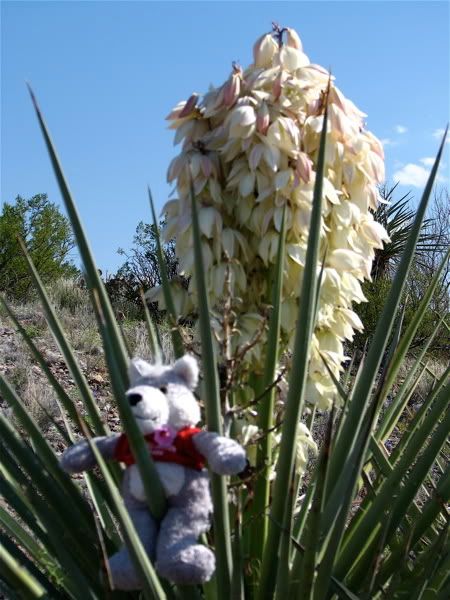 Back on the bikes and we rode up and up on that hard black ribbon. I could see Shadow was having a good time, 'cause I heard mutterings of "Oh my god, that's amazing" and lots of "Wow!"s and I heard a few "Woohoo!!"s.
Then I heard her take a deep breath and just turn inward a few times. Gotta watch out for that; she gets all weird and stuff and starts uttering things that make no sense to me. I think she's trying to say things from inside and they just get jumbled on the way out. But I can feel her get all vibrant and warm. She talks to me sometimes when we're alone about stuff she sees. But I wasn't supposed to tell anyone; it's our secret, okay? (her lap computer talks, too; how scary is that?!)
We stopped again and she took more pictures and muttered to herself. We caught Coyote Master taking a nap.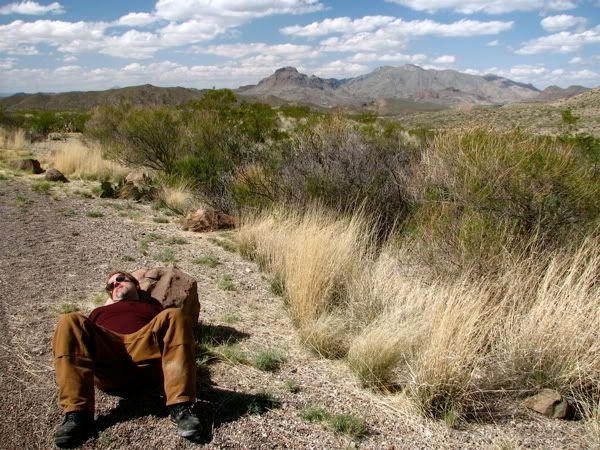 It was getting hot; my buddy and fellow coyote loaned me his helmet. Ain't I cool?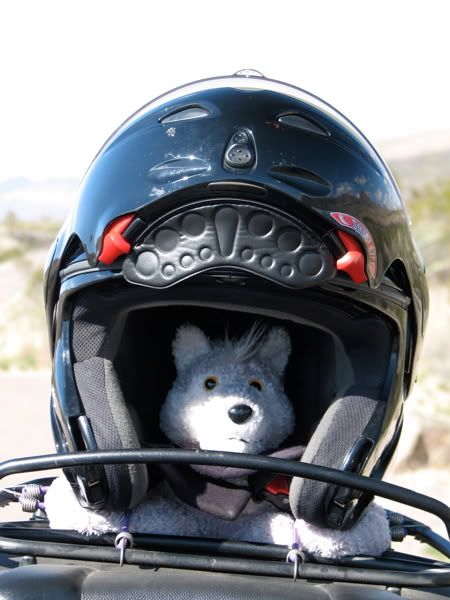 Coyote Master looks cool, too.
We stopped at a store and I knew right away we were in trouble. Shadow was on the hunt for ice cream. I think she can smell it a mile away. Then you'd better not get in her way. Inside she found some ice cream, sure enough. She has a one-track mind, 'cause she ripped open the wrapper right away and started eating it. And then the man behind the counter and Coyote Master gave her bad looks.
"What?"
"Um, you're not supposed to eat inside here."

"What??? But it's ice cream!"
She tried to say she was sorry but she wasn't really. So she went outside to finish her ice cream. She's a bad girl sometimes.
Coyote Master told her lots of really neat stories of this area and she was captivated like a little kid listening to Mr. Green Jeans when he told stories from long ago. All I wanted was a big bone with meat to chew on, but I was going to have to wait awhile for that.
Back on Black Ribbon and we rode some more. We pulled off at a stop that overlooked a magical mysterious place that loomed in the distance. Over in the near distance were two tall giant blocks of earth with a cut in the middle. It looked as if someone has sliced through a mountain with a big sharp knife and took out a slice.
I heard Shadow mutter something about that place being magical, as if it were from the Lord of the Rings trilogy (not sure what that is but is sounded cool) and it was drawing her like the Ring. She was having a hard time resisting the pull and she wanted to go there really badly. I could tell 'cause her heart beats faster and she gets a temperature. We canines can sense these things, ya know.
She told Coyote Master that she has to come back there for a day or two sometime, to that place in the shadows and do something. Not sure what she wants to do, and I'm not sure she does either. But she said it's something that she has to do and she can't deny that pull. (she told me a few days later that she dreams about it in her sleep)
Coyote Master was looking tired; I think me and Shadow wear him out. We're busy bodies, ya know. So Shadow suggested that we all ride back.
We saw gigantic mule ears in rock on the way back! Musta been a reeeeeally big mule!
It was time to go home now.
And we did.
What a day for a grrrrreat ride………..
Labels: Adventures, Big Bend