With two little bikes in the pickup bed and travel trailer in tow, we headed west to central New Mexico after work Thursday, 9/22. The main focus of this trip was participating in an adobe building workshop in Bosque, NM. We decided to extend it into a week's vacation; one that was sorely needed.
I had scouted for a rest stop to spend the night in Snyder, TX. I think we got the last spot available sandwiched between a line of tractor trailers. It wasn't too bad; no unhooking, no leveling, no hookups. Just crawl in bed and sleep. And it was free.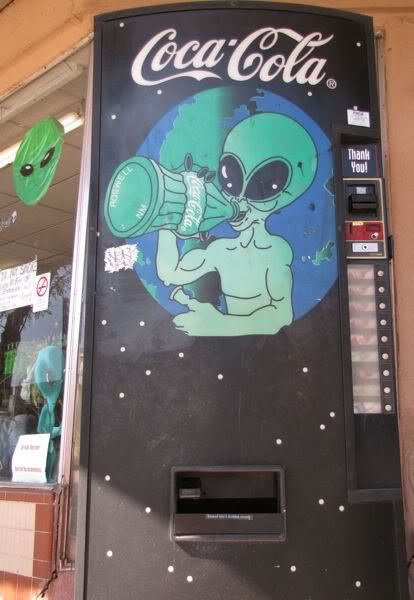 We were up before sunrise, impatient to get on the road. It's always a relief to finally get out of Texas. Sometimes it feels like it never ends. With a route planned that neither of us had traveled, we stopped in everyone's favorite place: Roswell. Where everything, including Roswell, is alien.
Arriving at the Kiva RV Park in Bernardo, NM, was a relief, despite that we arrived a few hours earlier than anticipated. After setting up the travel trailer and making dinner, we topped off the day with a toddy sitting outside in comfy chairs.
Early next morning we drove to our rendezvous at the Blue Door Cafe in Bosque for our first day of the adobe workshop. I didn't get a head count, but I think thirteen of us participated. Joe Tibbets of Southwest Solar Adobe is a veteran adobe maker and designer. A walking encyclopedia of everything adobe and earth building, he is eager to share it all with anyone who wants to know.
Our group was quite diverse: a father and son from Michigan, Marlin from Mexico City, Martin from AZ, a couple from Kerrville, another couple from Abilene, and a gentleman from Santa Fe (who happened to be the recently retired director of the US Park Service).
We started off with ample supply of coffee, juice, sodas and fruit while Joe went over the basics using an easel board, starting with soils, making blocks and constructing walls. After breaking for a late lunch, we finally got dirty.
Joe demonstrated a manual contraption called the Cinva Ram that makes compressed adobe blocks. The manual device is simply engineered to compress a mixture of moistened sand and clay into a block, usually measuring 4x10x3 inches, although that can vary depending on the form. Meanwhile, Joe discussed at length the importance of choosing the right soil and various ways available soil can be amended, if necessary.
We had another short sit-down session where Joe discussed design techniques, especially direct and indirect solar gain. I was very pleased to see in one of Joe's on-site projects an example of a trombe wall, which is a design/construction technique that utilizes direct solar gain and thermal mass to store heat. The advantage of this over large glass surfaces (aka windows) is that the earthen mass stores the heat and releases it when ambient temps cool. On the opposite side of that trombe wall section is a small buttress that increases the mass and heat storage. I thought that was brilliant.
We arrived back at camp with a satisfying tiredness and very hungry. That night we slept soundly and woke before the alarm. The second day we all got our hands dirty. An adobe block maker from Grants, NM, arrived in the early afternoon with an automated compressed earth block (CEB) machine. Only two of the group brought soil to make blocks with: us (from El Punto) and Martin from Arizona. Martin's soil was a beautiful deep reddish-brown color and made good blocks with little adjustment. Our soil required some sand and was lighter colored.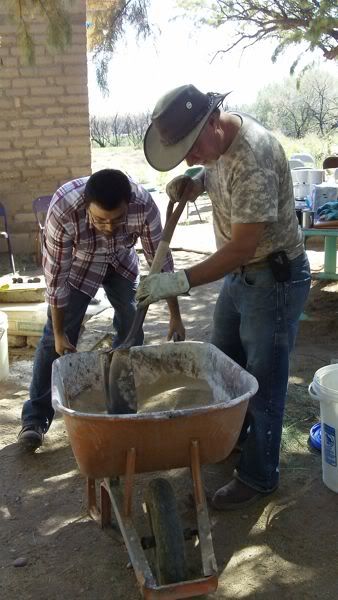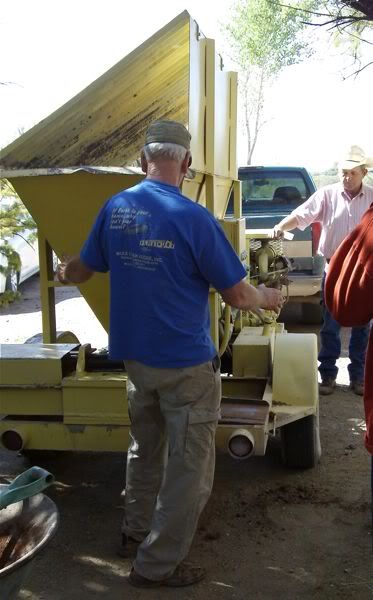 Martin's soil required little amendments; adding course sand improved the ratio to sand and clay. Ours had more silt than Joe preferred, and was more sandy, requiring adding some clay to bring the soil up to proper proportions. The first blocks out of the CEB machine crumbled, so they went back into the wheelbarrow to be recycled with another addition of clay and water.
Later we learned to make an arch with adobe. It is easier than it looks; if done right, and the effects make a wonderful addition to a wall for a door or window.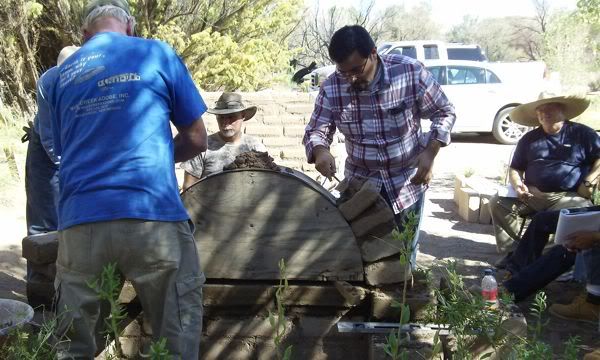 We came away with much information, ideas and questions. Joe will be doing a workshop next spring on design and working up plans for adobe structures, which we plan on attending. He also plans on a workshop for plasters and adobe floors, which we are also interested in. In fact, we may be in that area for a couple months next spring. Time will tell.
The next morning was our first to relax.
Labels: adobe, New Mexico