I woke up and pondered about wandering to Ponder for fodder. So I dawdled until the temps rose into the 50's, put the new registration sticker on the plate and drove off.
I took the long way to Ponder: Hwy 199 to Hanger Cut Off Rd to Wells Burnet Rd near the Eagle Mountain Lake Marina, Ten Mile Rd. to Robertson Road, to Boat Club Rd (1022), to 718. Then 3343 in Newark to Rhome and N on 287, exited a mile or so onto 407, E to Justin, then N on 156.
It was a nice ride, some comfy and smiling curves, but the wind challenged us the last 10 miles and drove the chill into me.
No one in front of Ponder Steakhouse. Are they open?? Neon sign says 'OPEN". Backed Whee into a spot in front of the porch (easy; its a slight decline), pushed kickstand down, lifted my leg off and over the saddle (Michelin Man again I am), pulled out two magazines to read (Ride Texas and Motorcycle Escape), opened the door and walked into wonderfully warm smells of grilling meat, bread and coffee.
The folks there are wonderful hosts: small talk ("Haven't you been here before? I think I remember you," "Ain't it nice to walk into a warm place from the chill?," "Coffee??") My hostess kept my coffee mug topped off, smiled and brought me a fantastic side salad of Romaine lettuce rather than iceburg water-bloated fiber, fresh plump tomatoes, and a very very tasty cucumber vingarette dressing with they make themselves. And it *is* tasty! pureed cucumbers, olive oil, garlic (loves garlic, me do, yesss), and pepper with the right amount of balsamic vinegar.
I was in a burger mood but when I saw their Ranchman's BLT on the menu, I tried that. I have two favorite sandwiches from my childhood: hot ham sandwich smothered with tomato soup, and my ultimate decadent delight: Real bacon and lettuce sandwich. (after raising your own pigs, curing and smoking your own hams and bacon, its painful to eat store-bought ham/bacon). I was not disappointed except for the bread: the bacon was thick and it had meat on it rather than all fat, the tomatoes sliced thick and juicy and again, Romaine lettuce. I prefer wheat, rye or grain bread, but settled for the white that arrived on my plate.
I was the only patron there during my salad and the start of my sandwich. All the cooks and hostesses chatted and punned around me and it was a comfy late lunch.
Then, halfway into my sandwich, I hear the glutteral roar of motorcycles........ many of them. I see outside the front windows a stream of cruisers with their pipes announcing their arrival as they line up in front of the shop. The little waitress looks out the door and says "Oh no......." I chuckled.
Eleven riders start to dismount off eight cruisers and pulling into the rear like a late caboose is a lone Kawasaki sport bike with a pregnant rear tire. The rider jumps off and is the first one inside, unzipping his jacket at the same time.
"How many are there of you?"
Shrug; "I don't know. I'm not with them."
"ohhh....."
I watched and giggled.
In walked a parade of black leather on tall, short, lean, squat, and wide riders of both genders. They all look the same on the surface, but underneath they vary greatly.
They sat at a long table in the back and had coffee and pie. The lone bike rider sat at a table in front across from me, drinking his coffee, eating a sandwich and reading his book. Quiet, watching, smiling. I felt I was looking into a mirror.
I was still hungry from not eating all day and knew the ride home was going to be chilly. I ordered desert, a piece of....
.
.
.
pie.
Hot apple pie with ice cream on top. The only way I can eat pie. With ice cream. Hot with ice cream.
I read about riding North California and let my food digest. Got up, paid my bill, and geared up to go. While doing so, the group from the back filed out and paid their bills. Walking outisde to the bike, I pulled out my camera, walked to the far side of the street and took a few shots of all the bikes and the front of the store.
As I was walking back, the inevitable happened:
"What's that you're riding?"
"Is that a Beemer?"
"What is that thing?"
So I explain the world of Suzuki V-stroms and answered questions about it. When asked, I explained that I removed the Suzuki decals. They'd get all scratched up anyway.
Then the next questions:
"Where you from?"
"Who you riding with?"
"You rode alone??"
They are a new group of riders, gathering once/month to ride and eat somewhere. I was given their club's card "North Texas Cruisers". I told them about Two Wheeled Texans online forum and the various local and regional gatherings, the Tarrant Co. riders gather on Tuesday nights, rotating around places to eat and sometimes do group rides. They were interested and several said they would look it up on the Internet.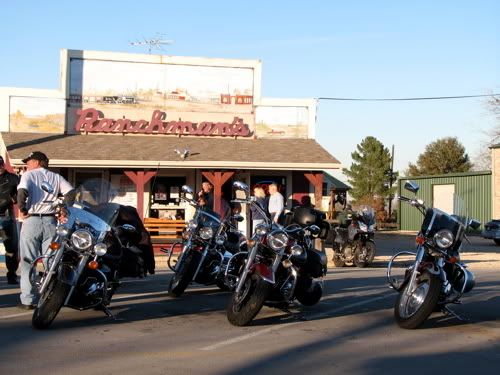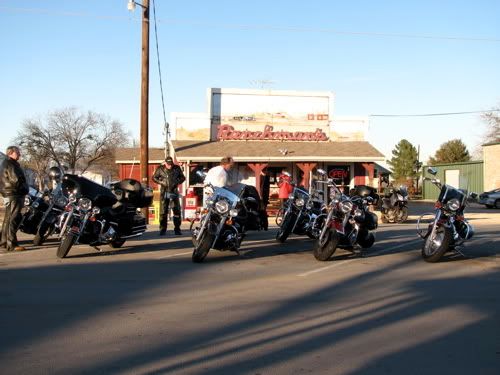 So there may be a few new members if they find us.
Maybe I should carry cards; this is the fourth time I've extolled the wonderful merits of this state-wide group.
The ride home was cold, cold, windy and cold. The daylight was leaving quickly and the shadows were long. Our shadow rode right beside us. I couldn't help but see it all the way home out of the corner of my eye, and the song "Me and My Shadow" sang in my head the entire way home; I was giggling inside my helmet.
I have a heating pad on my feet now.
Bernard and Wiley, the new mascot, went for the ride. But they were cold and kept in the side cases. There was no luggage to strap them to Moby Dick-style, and I pulled off the tail bag for some fun flicking (bike rides better without it on the corners). They felt slighted, so I took their picture on the couch after we got home. Bernard still doesn't know what to think about his new companion.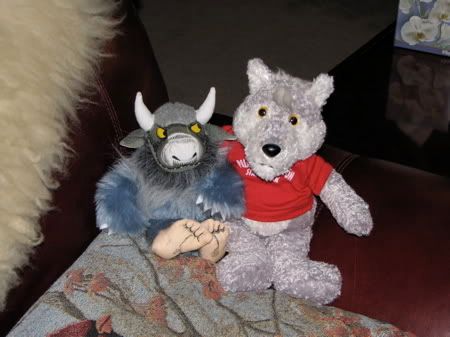 The story of how Wiley the Coyote adopted us is in the last installment of 'Texas Canyons", to be uploaded in a day or two. I've been busy.
Remember: Every ride can be an adventure.
Labels: Adventures, meanderings, Review