Part Two: Back to Someone's Future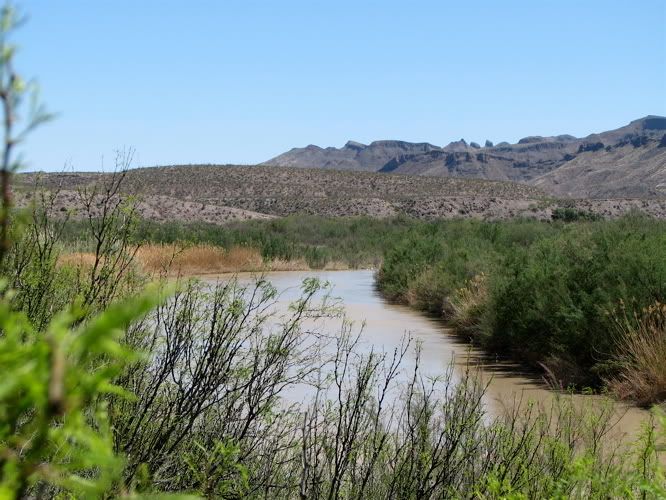 Glancing back along the road we just rode on, I saw a familiar juxtaposition and sadly chuckled inside: the contrast between the beautiful landscape and vistas and the imposing human-erected signs. We seem to have this obsession with signs to communicate every single thing we can think of to the point that no one really 'sees' (or reads) them anymore.
I sometimes, well, almost always, have this Edward Abbey-ish response of wanting to rip out all the signs and their posts and leave well enough alone. It's an internal battle of wanting to preserve an unblemished view, refusal of the overwhelming information of which 50% of it is needless, and the acknowledgment that we as humans have to be reminded of rules of the road. Or we would kill ourselves and each other.
I always pass them or look away with a sigh of resignation.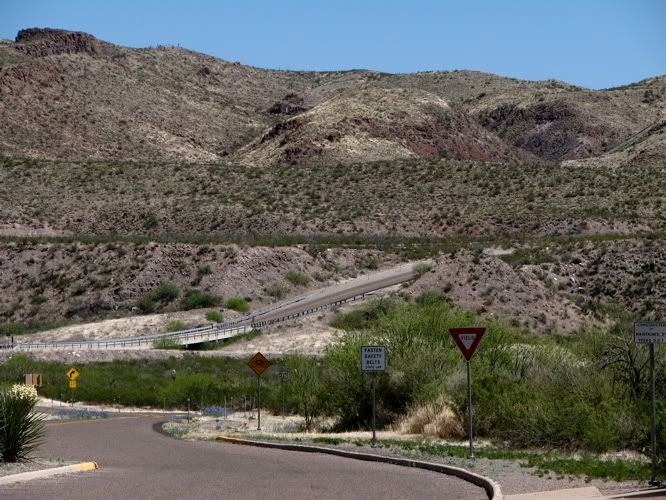 Back on the bikes, we rode along more scenic gaps, canyons on both sides and into valleys where over thousands of years the river cut through mountain ranges.
We were now in Big Bend Ranch State Park, natural reserve covering 300,000 acres with only one paved road. And we were on it.
After several miles of winding roller coaster road, we were ready for another break. Riding such roads on a motorcycle demands constant vigilance and concentration. Adding all the scenic views competing for a rider's attention can be…….. well, just plain overload. Add a dose of hot sun and breaks are welcomed.
Since I was leading, I pulled off into what appeared an area to get off the bikes and possibly find a spot to relax beside the river. Carefully navigating gravel, we found several vehicles also pulled into this spot. Judging from the canoes and kayaks, it was a state-maintained facility for river access: the Colorado Canyon access and camping area.
Plopping down on the grassy banks, we watched several people push out from the bank and into a section of mild rapids. A quick perusal to the west revealed that the river traversed through a canyon of tall black igneous and volcanic rock. It also was, as we discovered after getting back on the road, where the road passes through the mountains with a 15% grade. I could see a glimpse of what we were in for while scanning the canyon from where I sat.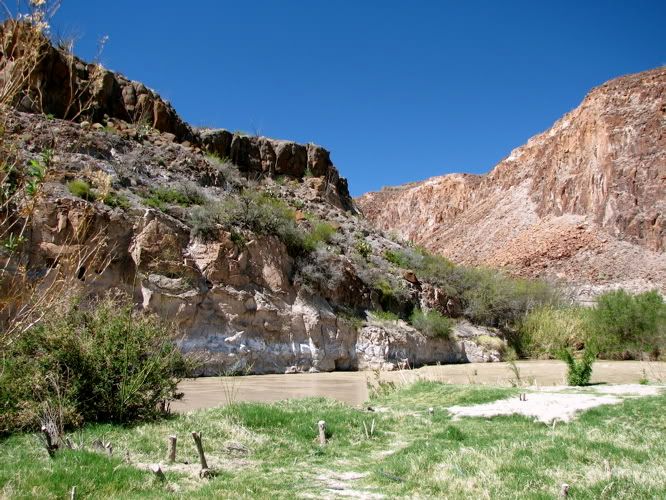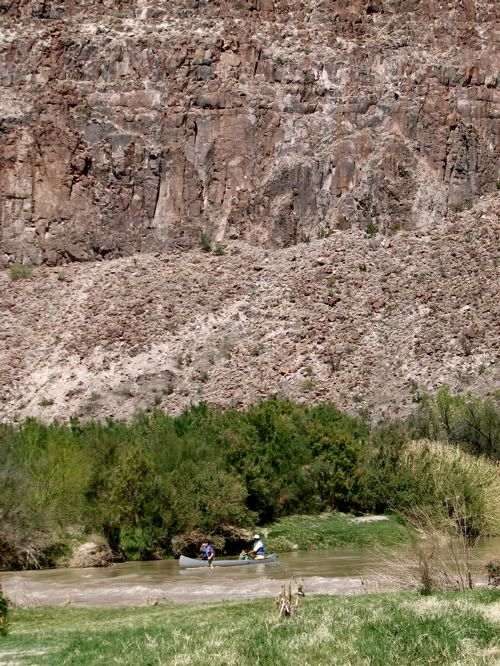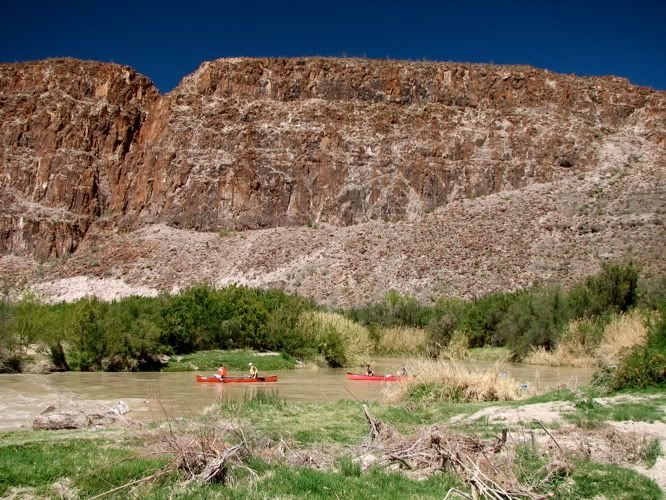 Time to ride on and we regretfully made our way back to the bikes. It was pleasant laying on the grassy bank next to the river with the canyons as our bedfellows.
We found the bikes cavorting in the grass. Naughty bikes…….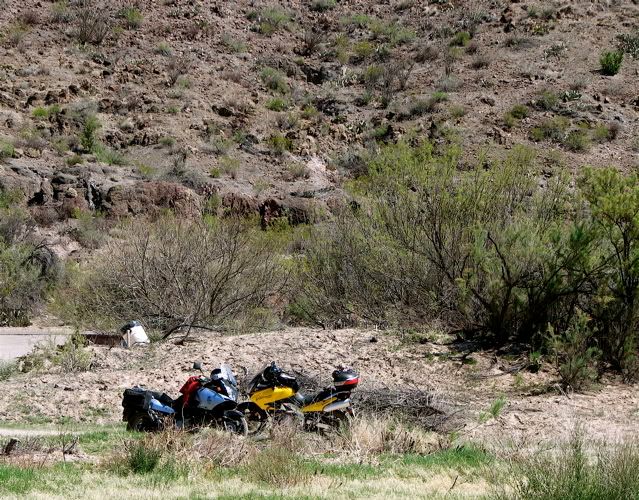 As is my usual approach to any stop, I always quickly assess the grade and all obstacles in and around the area I ride into. The simple fact is I'm vertically challenged and I ride a tall bike. There are times when I can't back the bike with my feet/legs and it doesn't have reverse. So I'm strategically careful where I pull into and where I park.
On this occasion, as well as a few others on these rides, I misjudged or just plain couldn't get out of a spot I was in. One day my legs were just too tired from hiking and climbing. There was no 'push' in them. This time I considered riding around a parked car on the grass and back onto the gravel. On closer inspection afterwards, I noticed a pile of mesquite brush covered with thorns next to the car. Too much of a chance of rupturing a tire, which would not be a good thing on this ride.
So Randy graciously, again, offered to do the alternative Whee Reverse: grab the luggage rack and pull the bike back while I steered to where I could safely pull out. After getting stuck for too long at my campsite in Palo Duro many months ago, I learned to bite my ego back and accept a push or a pull to back up. I was glad when I learned I am not the only rider with these issues on a Strom.
Near the end of the 60-mile river road we pulled into Fort Leaton, a historic site that was built in 1848 as a fortified trading post. All the structures are adobe and enclosed. Having a love affair with adobe-style buildings since I was a very young, I was in heaven. And this place demonstrated why they are so fitting to the land and climate in these areas.
Not only do the traditional adobe and Spanish structures efficiently utilize local building materials, but the features offer magnificent opportunities for texture, shape and color. Having a penchant for shadow play, I was drawn to the contrasting shadows cast by many different features of the buildings and the harsh bright sun. I went nuts with the camera; there were so many fantastic images I wanted to capture.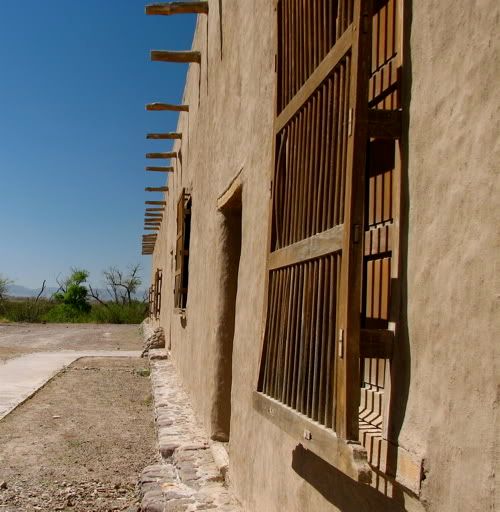 The cascade of the adobe lines: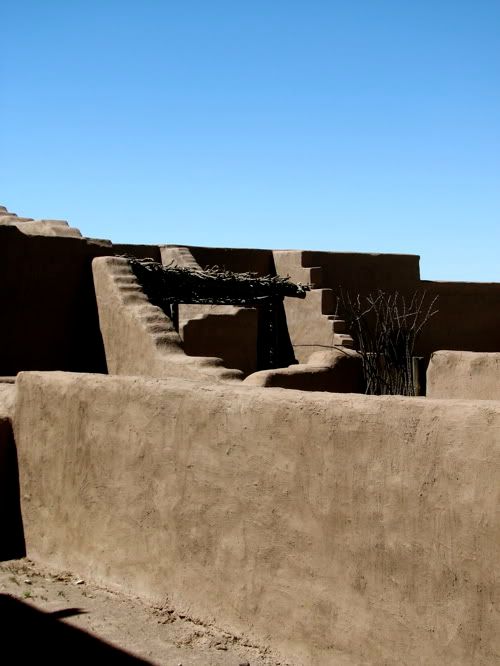 A common feature of traditional desert design and function is integration of surrounding resources, such as stalks from ocotillos that are laces and woven to form fences, gates, even a roof to provide shade. Sometimes they take root if they are stuck in the ground.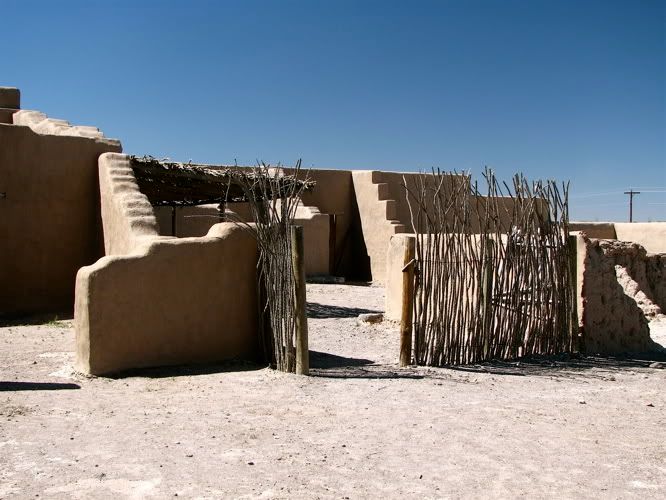 There were two major courtyards in this post. One housed an oxen cart. It was huge! It seemed as though only Paul Bunyan's ox could haul this enormous cart. And wooden wheels…… those alone were almost as tall as I am.
Time to explore the rooms:
The kitchen. The telltale sign was the kiva jutting out from the wall. Round fireplaces are much more efficient than square or rectangular fireboxes. Think about hot air and convection. There's a reason smoke seems to 'curl'.
Judging from the smoke on the wall, it was used as an oven.
With a regular fireplace on the opposite wall.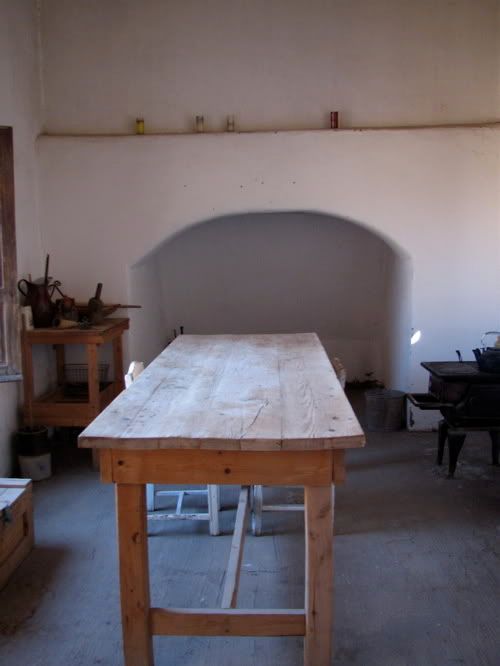 All the rooms with a door or a window had plenty of shadow play in them.
Randy relaxing near a window…..
Opposite a door to the courtyard.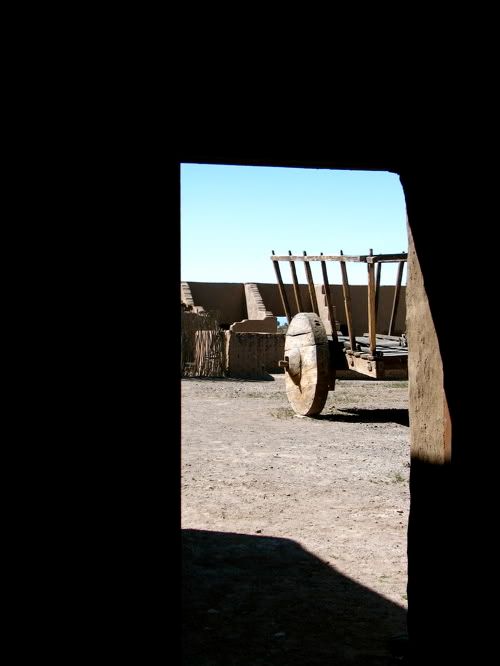 We found the blacksmithy area, partially roofed over, and with it's own doorways.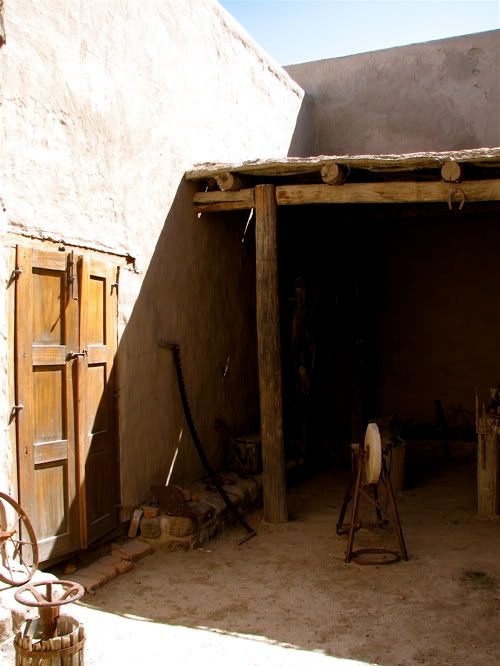 We also discovered a room deep inside the complex, no windows, and one door. Only thick adobe walls. Stepping inside, the temperature was easily 10 degrees, if not more, cooler. A good place to store preserved food and water barrels.
We walked through long meeting halls that ran the length of one courtyard, windows looking out over the yard; small rooms that probably served as bedrooms, a stable or livestock area judging by the adobe wall and ocotillo gate, and a chapel room. There was more left that we had not explored.
This indeed was someone's past, and another's future.
Back outside in the courtyard, I found two places where I would prefer to relax and spend a hot afternoon in the shade, or sip coffee in the morning hours, or share a glass of wine in the evening setting sun.
I would not mind living there at all!!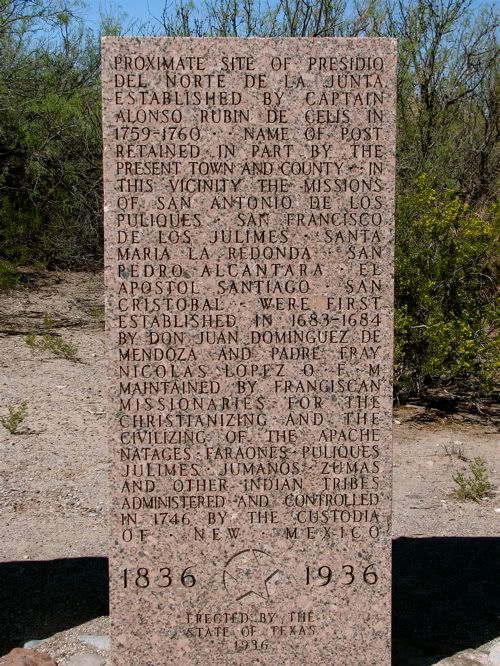 Next: Part Three. "I can't believe we ate the whole thing!"
Labels: Adventures, Big Bend