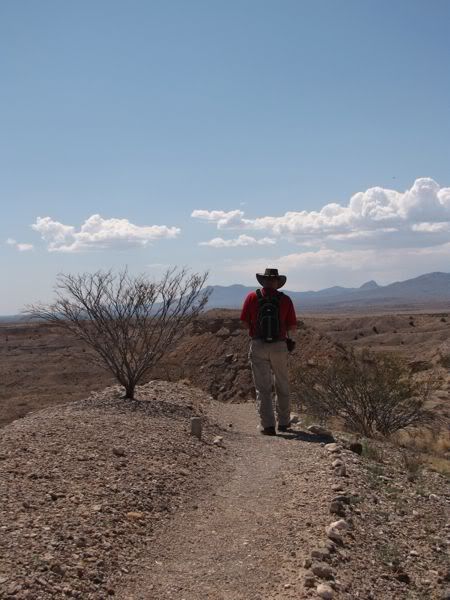 The next morning we relaxed; not having any commitments to be anywhere. We decided to take a bike ride south to visit one of the several wildlife refuges in the area.
Sevilleta National Wildlife Refuge
, just north of Socorro is one of the largest in the country.
It is especially unique in that it is the northern most section of the Chihuahuan desert. Four ecosystems (or biomes) converge here: that of the Chihuahuan desert, Great Plains grasslands, Great Basin shrub-steppe, and Bosque Riparian Wetlands/Forests. In that respect, it reminds me of its 'sister' refuge: Wichita Wildlife Refuge (Oklahoma), where several ecosystems also overlap.
We hiked from the visitors center up to the top of a mesa and along the escarpment rim. The view east overlooks the Rio Bravo (most folks there don't call it the 'Rio Grande') Valley and a mountain range. To the west is a seemingly never-ending land of grasses and desert shrub, typical of the semi-arid steppe lands, with mountains hovering in the background. In many ways, it reminds me of the Marfa, TX, area, which also sits on a large mesa.
I was very excited (and entertained) to catch this fellow below with my camera. Even got a video as I slowly crawled on my knees and one hand, while holding my videocorder in the other hand. I knew it wasn't a collared lizard, but wasn't able to ID it until after we returned to camp: Greater Earless Lizard. An interesting trait of this lizard is it wags its tail when alerted or alarmed.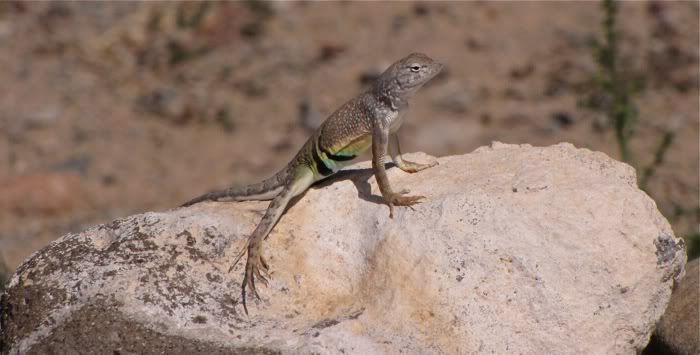 We then adventured into the town of Belen, north of Bernardo and Bosque, to hunt for ice cream. Which we did not find. No ice cream. Anywhere.
But!! We did make it back to the RV park before the office closes at 7pm where we bought two ice cream bars. So we had our ice cream after all.
Labels: New Mexico