Bill hosted a tech day in his garage for local V-stromers (and one lone Triumph). Recently selling his Yamaha Road Star Warrior and acquiring an '04 silver DL1000 V-strom, he's excited and ready to farkle and set it up for adventuring. Since several of us local V-strommers had similar needs and intentions, Bill offered to host a tech day.

It was a giant success!
One of Bill's many expertises is welding. When he saw how upright my Whee was, he graciously offered to shorten the side stand. After examination he also said he can shorten the centerstand, which two welders claimed could not be done. After being blown over a few times because it was too upright and unable to use the centerstand (because of lowering the chassis) I was more than willing to let him give it a try.
Eight of us wanted to put heated grips on our bikes, but we soon discovered there were none available in this area. Bill placed an order for eight kits through
California Sport Touring
and they were on Bill's doorstep by Friday. Thanks to Kim at CA Sport Touring for expediting our order.

In all there were three DL1000's and two DL650's that attended. Chuck also rides a DL650, but chose to ferry this mobile electrical gear in his jeep. He will add a pair of the heated grips to his bike soon. His help with the electronics was, as always, appreciated.

Bill's one-car garage houses a plethora of tools, and like most devoted bike owners, he has a passion for acquiring them. He also has access to a MIG welding outfit which he brought home and used in the back of his truck. His home-made clamp and stand it into the towing hitch receiver. Ingenious!
Bill's welding expertise and quality is impressive considering the sloppy job the previous welder did on the side stand. The shortened stand now looks stock, except for the larger foot. And the center stand works! I can use it, after overcoming some anxiety about the bike falling. I'm still a bit too light to flip the bike up on the stand easily, but between them all we determined a technique that enables me to put it up and take it off the centerstand without the bike falling over. I am very grateful.
Chris was the oddball with his TR Sprint, but we still like him. He installed heated grips on his bike. And like the rest of us, he had difficulty tapping into the stock heated grip connection.
Bill during one of the many attempts to remove, test or re-attach the side and center stand on Whee. Chris stabilizes the front end and Pew! the new mascot guards the rear.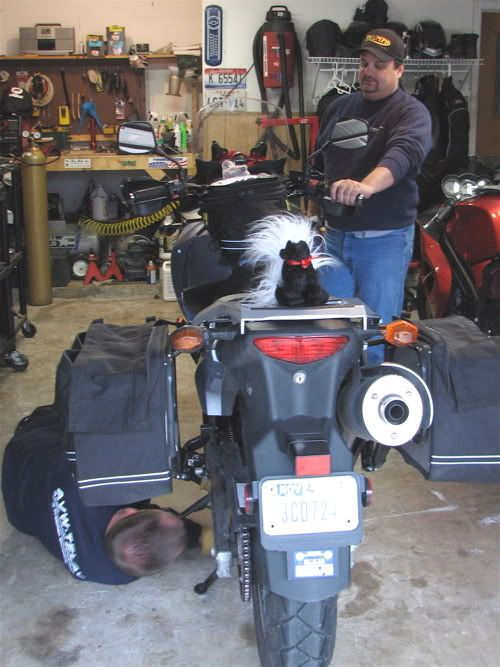 BillTwo to BillOne: "So, are you a professional welder??"
Bill does do professional-quality work, expecially compared to the previous 'professional' welder that shortened the side stand.
Captain Russ waits at bottom of driveway for access to the garage.
"Sure, I wear full gear all the time!" or "It's not a tuhmah!"
As you can see, Bill's on the balls of feet as he backs his bike down his sloped driveway. Bill's at least 6'2" and flat-feets his bike, but not here...... Now imagine Wee Me on Whee precariously backing down on the TOES of my feet. Chuck's not too sure about this, either.
We're all digging the sparks flying from Bill's Mad Welding and Grinding Skillz (sparks didn't show up in photo). Nice set up.
Bills One and Two whispering about the Secret Society of Silver Stroms....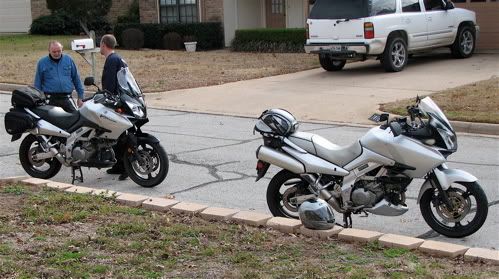 Jeff's expert electrical skills on fuse box installation in Whee. Clean as a whistle. This is a
Blue Sea Marine 5025 six-circuit fuse box
with negative bus bar. Mine is 'switched' via a relay. In other words, it gets current only when the ignition is turned on. All auxillary devices (horns, heated grips, etc) are powered by this box. The only one not switched (aka it is 'hot' all the time) is the Powerlet socket installed in the left faring. We decided to leave this hot in case I need to plug in a battery tender or charger. Otherwise, this is the socket my Widder heated vest is plugged into. In the near future, I will install another Powerlet socket in the right cowl (also switched).
Too many Indians and no chiefs......
Russ and Chuck perform electrical surgery on the Yellow Hornet, installing another Blue Sea fuse box. In addition to the six kits of heated grips that were installed, two or three of these went in to V-strom pockets under the seats.
Yes, here's evidence to prove that Bill's bike did get worked on.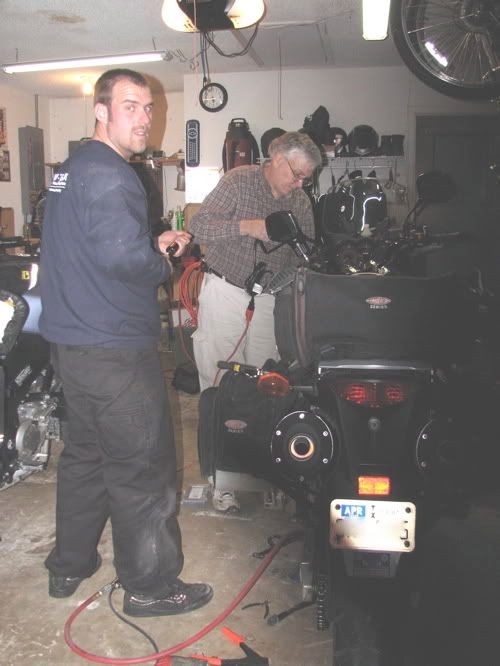 I think one of the others took pics of the heating elements on the bars or grips. Mike and I installed them over stock grips and under grip pups. I exchanged the clutch side for the throttle side to get more heat on the right hand, and I am very glad I did. It works great! My right hand appears to freeze more and faster than the left. I wanted more heat for my right hand.
The others installed the elements under stock or aftermarket grips. Chris called Bill on his arrival home to tell us his grips felt like holding 'warm potatoes'. On my way home, the right felt like holding a warm cup of coffee. With the heated vest it was a very pleasant ride home at 40 degrees F. It will be even more pleasant when it's near 30.
Some installed toggle switches, some rocker switches. Mine (rocker) went into the left cowl leaving room for a digital voltmeter, which is on the way and will be installed soon. When farkling the bikes with several electronically thirsty modifications and gadgets, it's imperative to monitor the bike's battery voltage.
We had donuts, muffins, grilled hot dogs and turkey breasts, humor and good time by all.
Kudos to Bill for hosting our V-strom tech day and sharing his expertise and talents!

Below is the result of Bill's welding. They look new, and now they are usable.

Whee now has a nice lean to the left, and a happy shadow.
Labels: bikes