"Aurora, Tex. -- (UPI) -- A grave in a small north Texas cemetery contains the body of an 1897 astronaut who was 'not an inhabitant of this world,' according to the International UFO Bureau. The group, which investigates unidentified flying objects, has already initiated legal proceedings to exhume the body and will go to court if necessary to open the grave, director Hayden Hewes said Wednesday."
[1]
Several months ago I read about an alien buried in a cemetery near where I live, tickling my curiosity. So after picking up the bike from the shop last Sunday morning, and needing some quality time with the bike (and myself), we rode off in search of
The Dead Alien of Aurora, Texas
.
Considering Sundays are my Self-indulgence Days, I nursed a tall coffee at a nearby Starbucks, read a guidebook on Big Bend (where I will be in two weeks), wrote in my journal, people watched, and enjoyed a relaxing quiet morning. My head and nervous system needed it.
The day was warming up considerably so I sauntered off to the ladies' room and removed half of my cold weather gear. Pulling my boots back on at my chair and gathering everything to go, I wandered outside with my face upturned toward the sun with much welcome. I felt a smile unconsciously creep across my face and the old eagerness for a ride blossom from the dust of yesterday's storm and the week's stress.
'I don't want to go home. Where shall we go, Whee?'
Then the thought of hunting for the alien landed into my head with a crash. Having ridden the route so many times on the way to Ponder, I didn't need a map. The camera was in the tank bag, the bike was full of gas, I had my coffee; I was ready to ride and hunt for an adventure: aliens!
Turning onto Hwy 114 west, I kept an eye out for a sign pointing to Cemetery Rd. in Aurora. Turning onto to the gently rolling road, I left traffic behind and descended onto a quiet neighborhood of scattered ranch houses, horses and cows. Blue sky, sunshine and the sound of horses greeted me as I geared down on the rough road searching for signs and an entry to a cemetery.
Around a bend of tall gnarled oak trees I found Aurora Cemetery on the left side of the road.
Carefully pulling into the narrow tarmac alleyway that served as the entry, I saw a car parked in the road and near a gravesite. Out of respect I pulled over and sat on the bike to wait while a woman placed plastic flowers around a gravesite.
After she rode out in her car, the bike and I slowly made our way towards the back of the cemetery and found an unobtrusive place to park on the side of the tarmac.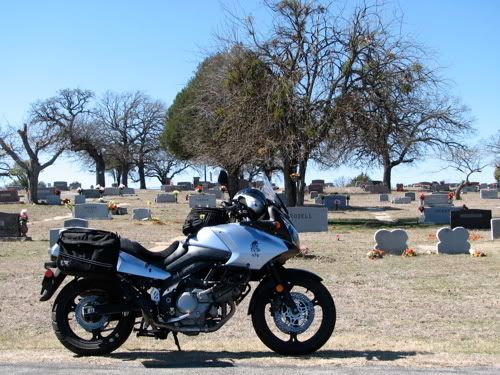 I hung the camera around my neck and began my journey through time, wandering around reading headstones and markers. I quickly noticed that the newer monuments and markers were towards the back of the three-acre cemetery and the older ones closer to the road and sheltered by old gnarled oak and cedar trees.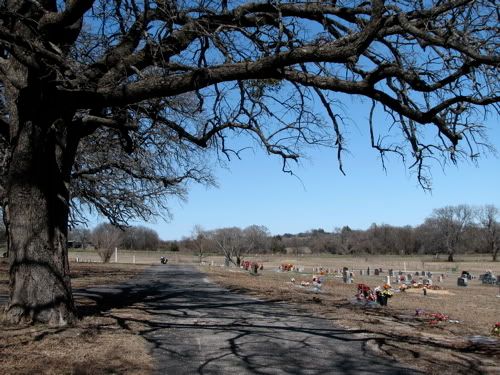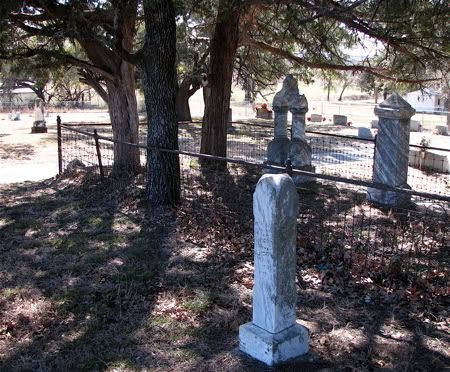 As I wandered, I noted names and dates on various head stones. Some of the markers were large and extravagant, others humble, small and unassuming.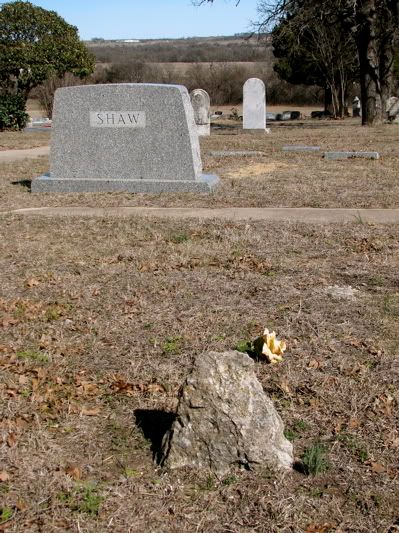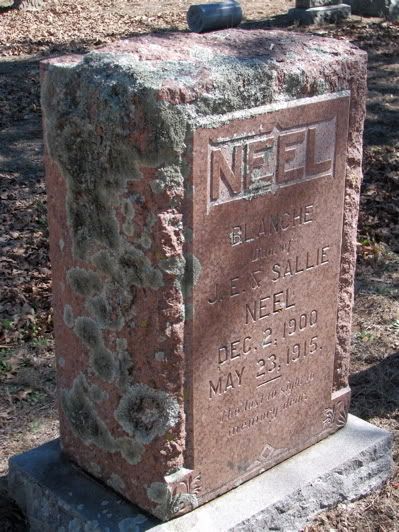 Personal offerings were placed around many of the stones, mostly plastic flowers. These compliment the idea of graves and markers, leaving a stamp of immortality of people and lives, families and friends. Plastic survives the elements almost as well as the monuments marking those entombed in their metal or concrete resting quarters.
I was very impressed by one plot where hundreds of daffodils were beginning to sprout from the earth underneath a tall cedar tree and next to a tall old marker.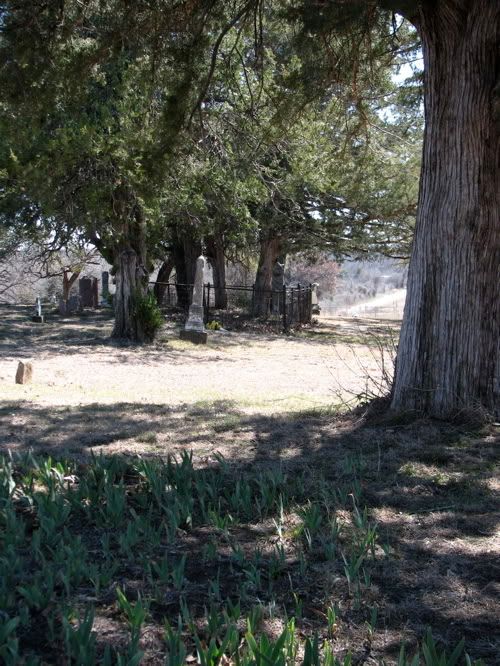 This forethought is more representative of the cyclic nature of life and death; the seasonal birth and death, to be reborn again. Similarly with people: although individually we all succumb to death, our children and children's children continue on. In some sense, our immortality survives in our descendants. The plots with generations of people of the same family are a tribute to that. We are Nature's 'flowers' just as those daffodils sprouting from the ground, multiplying and covering the area around the original plantings.
We continue on despite our own death. In the hearts of those we leave behind and in our descendants. Along with our contributions to our surrounding community, which were often noted in epitaphs on the grave markers there.
My ex-husband and I used to visit the many small cemeteries hidden in the Maine woods or next to old churches in Maine and Oregon. As a free-lance photographer, he often photographed the 'stories' that the old cemeteries and gravestones revealed. These places of burial, like a time capsule, can unfold historical stories about a location, a town, a family. And I saw the same there.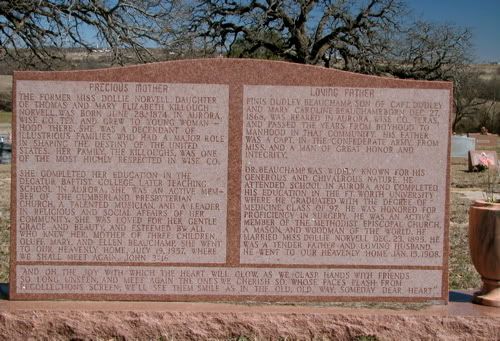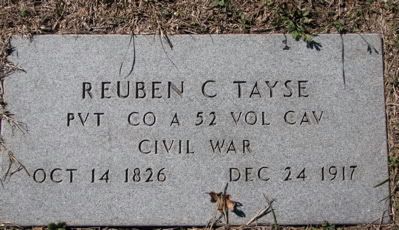 There was a heart wrenching moment when I came upon a family buried in the late eighteen-hundreds; a mother who died in childbirth, shortly after birthing twin babies, who also died, outliving their mother by a few days. Then her teenage son died a few years later. The father remarried and lost his new wife to childbirth three years after his first wife's passing.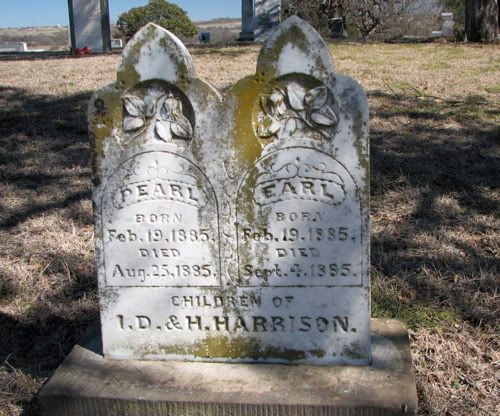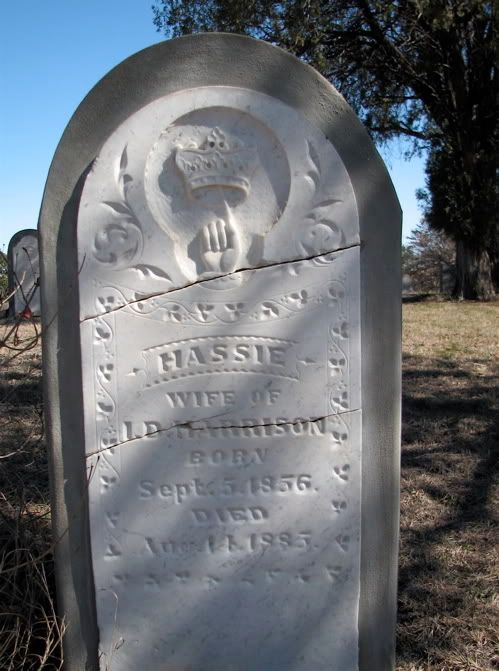 A common pattern in old cemeteries is the large number of headstones for infants, some living a day or two, some a month. It emphasizes how much our medical knowledge has advanced in a hundred years, when back then the infant mortality rate was high. Now we can choose what day and time to give birth.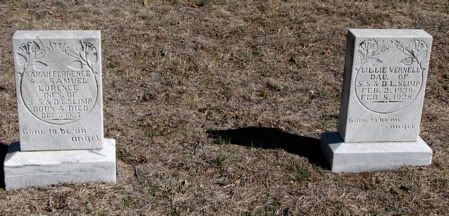 I also noticed a large number of graves within the same time frame. Such a large group of deaths usually indicates an epidemic of some kind or a massive crop failure. Anyone familiar with Irish history will know that successive potato crop failures caused thousands to die of malnourishment.
Several gravestones marked the deaths of people younger than I yet contemporaries of my own time. Having experienced two deaths recently, I found myself wondering about my own demise. I'm not worried about it nor fear it, but I'm not a spring chicken either.
I smiled as I recalled reading how Edward Abbey announced his preferences shortly before he died: to be buried in his sleeping bag out in the desert where the buzzards and coyotes could celebrate his life and death. And give back to the desert and creatures what they gave him. I remembered Larry's wish to be cremated, his ashes tossed from the peak of Mt. Katahdin in Maine, to a land below that he loved to explore.
It reminded me that life is for living and it's too short, and of all the places I want to go, see and hear before my turn. "I'm not afraid, Bertha", I told the head stone bearing that name as I sat nearby for a few moments. "But I'm not ready to go yet. I have too much to do and see. And I'm wasting my time."
I never did find any indication of an alien buried there. Only a mention of it on the historical marker next to the steps and gated entry to the cemetery.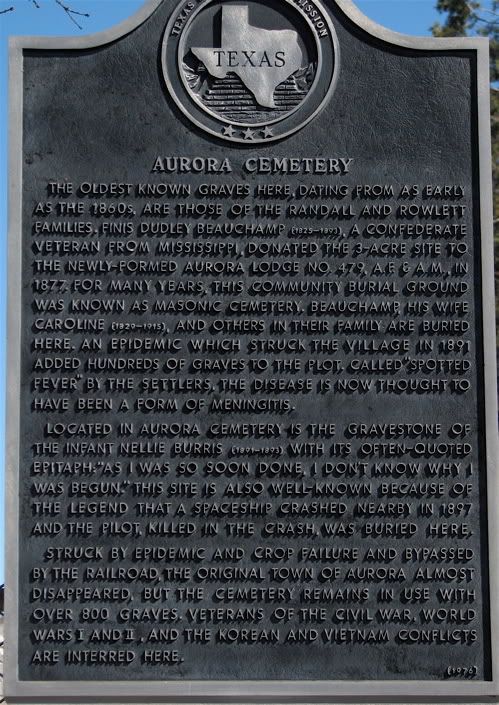 Considering the inevitable demise of the once-thriving town of Aurora, perhaps a local fabricated a story to attract attention to the small town. Apparently it worked, the story still survives and even has a guest appearance on a state marker. But the little town of Aurora suffered the same course of life and demise that many town across this country experienced. Nothing stays the same.
When I turned to walk back to the bike, I noticed a representative juxtaposition up in the clear blue sky: the moon. There in the sky, barely after noon, was the harbinger of night smiling down on our day. It made me smile: here was another yin and yang.
It was a pleasant two hours that I spent commiserating with the ghosts interred there; their histories and their past, this chronicle of human life. I left with a settled spirit and a renewed appreciation for life and the living.
On the way home I rode along Eagle Mountain Lake, which sadly looks as if it's plug had been pulled. Even lakes come and go. As the day passed, to make way for another, I felt rejuvenated.
It was a good day. It was a good ride.
Labels: meanderings, musings