I eagerly awaited this trip for a long time and for several reasons. But as it grew near time to go, a black cloud hung over it for even more reasons.
At one point, I felt like I was about to ride off a cliff. Despite all the nagging doubts waving their little mischievous hands "No, no no!!!"
But I had to take that chance and ride off the cliff. I had to know. Or I would wonder and never know. Now I know.
And the nagging doubts are jumping up and down waving their hands. "Told ya so, told ya so!!!"
Riding of a cliff and landing face first on the bottom; hurt, bruised and humiliated, one would hope valuable lessons are learned. They were.
Lessons learned, or reminded of:
1. Listen to the Nagging Doubt Demons. Don't shove them down into a box or ignore them. They nag for a reason, maybe several. Call them instincts, subconscious reasoning, suspicions based on previous associations or patterns……..they can be anything but the obvious. Or perhaps they can be that too. The obvious that you want to ignore or forget.
2. I was reminded of the value of friends. It's a value that no weight in gold can match. And a luxury I haven't had in most of my adult years. I discovered a good friend who helped me above and beyond when I was in dire straits.
3. Always be prepared for the worst; that's the Boy Scouts' marching song. Especially in budgeting trips. Finances have been tight lately due to monthly contributions to the family, and I underestimated the budget for this trip. Of course, the worst happened. I ran out of money. And gas.
So what of the trip?
The bike was packed and ready to go Saturday night. After a good night's sleep, I was on the road in the dark of an early Sunday morning. Traveling anywhere Sunday mornings offers an opportunity to enjoy the roads without the usual traffic congestion. And enjoy it I did.
Because I had a committed destination and time of arrival, I rode the interstates. Luckily the route was simple: I-30 to I-40. To avoid riding through downtown Dallas, I rode I-20 and then north on 635 east of Dallas to pick up I-30. The first leg of my journey took me through an area of Texas I haven't experienced before: east Texas. Despite that nearly all of northern Texas is green right now I suspected it is green there most of the year.
Several miles east of Rockwall, a light mist fell. I turned on the heated grips to keep my hands warm but didn't yet miss my electric vest that I opted to leave behind. The wind had picked up out of the southeast and except for the brief ride north on 635, the bike and I battled strong cross and head winds riding both east and west on this trip.
I admired the sweeping green pastures and picturesque horse and cattle ranches in eastern Texas and Arkansas. All the horses and cattle looked fat and happy; harvesting hay had already begun. The interstate between Texarkana and Little Rock was beautiful with trees bordering each direction and offering a buffer against the wind. I took advantage of that to sit upright on the bike rather than hunkered down on the tank bag to reduce the wind buffeting.
After Little Rock the wind protection by the trees was replaced by open agricultural land and we were slapped around again all the way into Tennessee. Riding the bypass around Memphis at 3 pm, I felt lucky it was not a weekday. Considerable construction before and after the Mississippi bridge suggested that traffic can be snarled on weekdays.
Starting to feel road weariness from battling the wind and hunger, I pulled off I-40 in Jackson, TN, to find a room for the night. Watching the signs from the highway I found a motel that advertised an affordable rate.
Texas is a big state and its natives, no matter what age or ethnicity, seem to be scattered all over this country. I've meet people on every road trip who have lived a portion of their lives in Texas and this trip was no exception. The motel clerk, a pleasant man of Asian Indian descent, grew up in Waco where his parents and brother own a motel. He moved to Tennessee where the weather suited him better. And stayed.
At my request, I was given a first floor room near the office and I parked the bike within a few feet of my motel room window. I started to think about finding some food after a welcome hot shower with strong water pressure massaged my knotted traps into relaxation. Looking outside the window I saw a Taco Bell within walking distance, cheap and easy to obtain.
After eating I prepared everything to quickly load the bike and depart by 7 am. At 9 pm I was falling asleep, and since I saw no point in battling it, I succumbed.
Except for the occasional and typical motel noise of other occupants, including a bout of maniacal laughter and shouting outside my door, I slept relatively well. I was up at 5:30 am and on the road with three cups of coffee in me and a full tank of gas by 7 am. I was already missing my own strong brew of java and wished there had been a Starbucks nearby to remedy that.
Shortly before Nashville, hunger drove me off the interstate and in the parking lot of a Cracker Barrel for breakfast. Perusing the menu I realized that this chain would be a logical place to target for eating on the road: they were ubiquitous all up and down the major highways and relatively inexpensive. Little did know that would be my last real meal until I returned home.
Before I returned to the highway I had to hunt for a post office to mail out a horse halter that I had sold online. The deal was finalized late Saturday night so I had no opportunity to mail it prior to leaving. I packaged the halter with its heavy silver in paper and plastic bags, carefully slipping it into one side bag and ready to mail out somewhere along the way. And hoping the sale money would be transferred to my account quickly. I had to rely on it for the trip home.
Nearly all my life I have been plagued with bad voodoo in post offices. Everywhere I've lived across this country whenever I enter a post office, the world seems to slow to about 1/16 of normal time and Murphy's Law is the Law of the US Postal Universe. The postal clerks appear as turtles and Eyore caricatures moving at snail's pace and oblivious to the outside world. This time was no exception.
After my third visit to the desk, still in full riding gear and now profusely sweating, my patience cork about to pop, I exited the big glass door from the Universe of No Clue and with relief started the bike, eager to get back on the highway and out of this small Tennessee town.
Back on the interstate, I luckily hit the tail end of morning traffic in Nashville on a gray and cloudy Monday morning riding east. I was on the last leg of my journey east and looking forward to a reprieve from the asphalt.
Finding the exit to the park, I rode 36 miles north of I-40 into the hills of Tennessee. The roads gained elevation and became increasingly rolling and curvy, providing a welcomed change from the many-lane interstate asphalt. The park signs clearly guided my way to the park and I checked in at headquarters to pick up keys for the cabin.
Most of the cabins are clustered in two areas separated by highway 136 that winds through the park and then up and down the foothills of the mountains. All sit in close proximity to headquarters and a small rustic conference center. The cabin I rented was the exception. The entry was a private drive that wound down the hill and through the trees where the cabin sat on a ledge overlooking the reservoir. It was perfect: serene, quiet and private. It was ideal.
Constructed of timbers and on stone foundation piers, the entry porch offered a view of the reservoir below and was floored in the plentiful nearby fieldstone. A wooden porch on the other side overlooked the hills, a ravine and trees. The main cabin room contained a double bed, round table with ladder-back chairs and a large stone fireplace. A small kitchen provided the essentials and the adjoining small room housed two single beds and a dresser.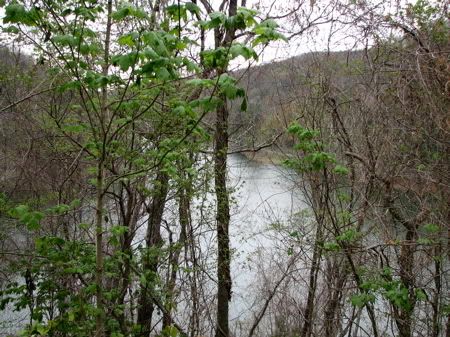 The rest of Monday will remain private, but will also be long remembered. It was then that the bad mojo began to rain on my parade. I rode off the cliff, face first and crashed at the bottom, bruised and humiliated. And all my Nagging Doubt Demons began their little "Told you so!!" dance.
Later that night I ate my last protein bar, lit the logs in the fireplace and unsuccessfully tried to read my book. I read the same paragraphs without really digesting them; my head wasn't in it. Feeling drained I tried to sleep. Also without success.
I woke disoriented and drenched in sweat from a nightmare, got out of bed in the light of the fire and sat in the dark drinking a bottle of water. My traps and neck had seized up and I wandered out to the bike, retrieving the Advil to relieve the pounding headache. No stars or moon could be seen in the sky. Ever since I rode into Tennessee, grayness seemed to dominate both night and day.
I walked back to the cabin accompanied by the hooting of two nearby owls and tried to go back to sleep.
A searing pain woke me from a restless sleep; a tonic muscle cramp in my left gastrocs (calf muscles). Although I haven't had one of those in a long time, I knew the course of it. By the time I climbed out of subconsciousness, it was too late to mitigate its progression. I could feel the two muscles seize and ball up pulling on the connective tissue; it felt like the tendons were going to pull away from the bones they were connected to. The pain is excruciating.
Oddly enough, when this occurs the rest of the body tightens in response, which merely exacerbates everything. The only way to mitigate it is to deliberately focus on relaxing the entire body and slowly stretch the calf muscles hoping to minimize or even prevent the progress of the muscle tetany. But this time it was too quick and I was too slow in coming out of sleep. All I could do is stifle a scream and wait for it to subside, or resort to beating on the muscles with my fist to try and interrupt the prolonged and unchecked neural activation and contraction of the muscles.
Feeling it finally subside, I lay there forcing myself to breathe and relax, letting it fully release. Then slowly try and stretch out the calf muscles to reduce the ensuing stiffness. I knew it was going to be sore the next day.
I lay there for hours unable to fall back to sleep. My calf throbbed and I couldn't turn my head off. I recall hearing birds announce the beginning of sunrise when I finally drifted back into a restless slumber.