The days were going by quickly. Too quick. There was one last place where I had my heart set on going: El Malpais.
Malpais is Spanish for 'badlands'. And in a sense it was, or is. Yet, I view it as wonderful lands. The area was covered with lava flow from the mountains north (Mount Taylor) millions of years ago, but that was only the first eruption. Later, rifts in the earth's crust bled hot molten lava which flowed and covered the first flows. Scattered alongside these lava flows are cerros, or craters, and cinder cones. It is a volcanic geologist's dream land.
We had intended to ride the bikes along the Chain of Craters Scenic Byway which follows the western edge of the El Malpais Monument area. But the logistics just didn't allow us to do that. So we drove the truck. As it was, we were gone all day until late at night. And, I'm actually glad we didn't ride the bikes. We wouldn't have been able to take our time and enjoy it like we did.
First we stopped at Bandera Crater, the largest crater in the chain. The land is privately owned and visitors are charged a fee, but it is worth the hike and views. Also nearby is an ice cave which one can visit. (see their website
here
) Clicking on the link, you can see an aerial view of the crater. Standing on the rim is another story. It is magnificent.
The ice caves are thrilling, too. The temperature at the bottom inside the cave rarely goes above 30 degrees F. Yet, the thickness of the ice has decreased by several feet over the last 50 years.
Indigenous peoples used the caves to keep food cold, and local settlers often made a day of visiting the cave to make ice cream. Many artifacts have been found in and near the ice caves; many are on display at the headquarters (once a trading post).
Several caves are scattered within the Malpais Wilderness area, but are closed to human visitation to protect the bat population that live in them.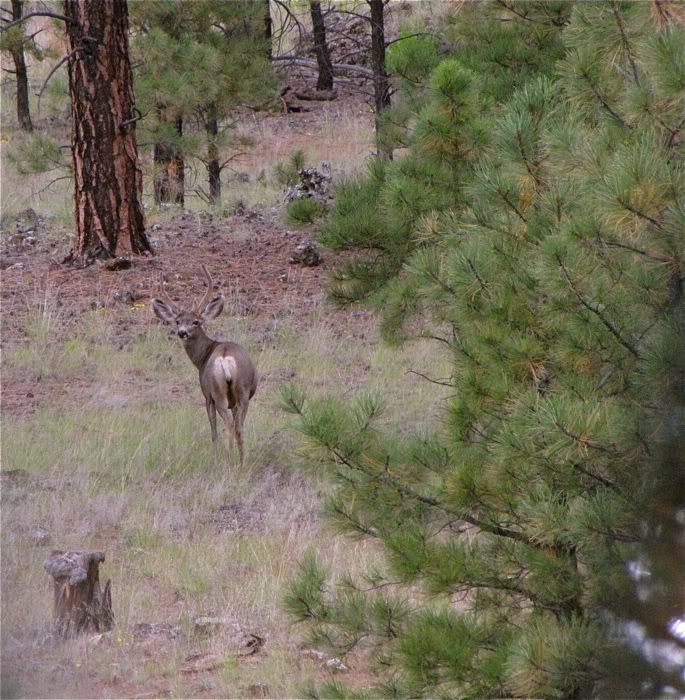 We saw a group of bucks within the pines. The entire area is forested: Ponderosa and pinon pines, cedars, Doug Fir, junipers, oaks. The smell of the pine trees just makes me float in air. I love pines; their smell and the wind that whistles through them.
And that's how the Chain of Craters Byway begins.
Labels: New Mexico